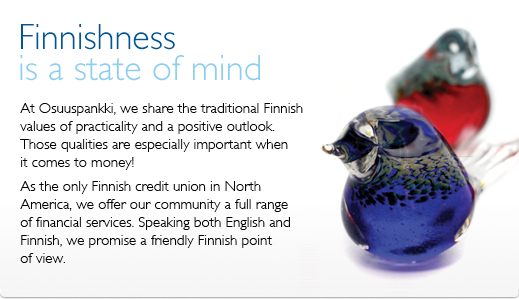 HIPPO PARTY 2013Thank you everyone who attended this year's Hippo Party. Pictures can be viewed here.


YEAR IN REVIEW Don't have our 2012 Year in Review booklet? We have them at the branch or you can view it here.



FREE ATM NETWORK IN NORTH AMERICAOsuuspankki has a full-service ATM at our location at 191 Eglinton Avenue East that is available for your convenience 24 hours a day.
Osuuspankki members have access to over 3,200 ATMs in Canada and 265,000 ATMs in the U.S. - surcharge free! We are a member of THE EXCHANGE® ATM Network, the only inter-institutional, full-function ATM network in Canada. Click here to find an ATM that belongs to THE EXCHANGE® network. You can also find an ATM locator app for Android, BlackBerry and iPhone there.



eTRANSFERS AVAILABLEInterac eTransfers are available for you to use when you are using Internet Banking. Look for the function by clicking on the Transfers tab at the top of your Internet Banking session. Set up a profile for yourself, set up your friends' profiles and get ready to use Interac eTransfers from your PC or your Smartphone. For more details on how this function works, contact our credit union or read about it in Our OP Community News section.



We always look forward to hearing back from our Members. Whether your feedback is about our website, our services or for suggestions of what you'd like to see happening at your credit union, please let us know by sending us an email to feedback@finnishcu.com
Kiitos! Thank you!

View the Events listing in Our Finnish Community to see all the events coming up. There is something for everyone!


Need An Answer During Business Hours?Call us: 416-486-1533 or 1-800-668-7242

Email us: mail@finnishcu.comVisit the branch: 191 Eglinton Avenue East, Toronto, ON, M4P 1K1
| | |
| --- | --- |
| Monday | 9:30 am - 4:00 pm |
| Tuesday | 9:30 am - 4:00 pm |
| Wednesday | 9:30 am - 4:00 pm |
| Thursday | 9:30 am - 8:00 pm |
| Friday | 9:30 am - 6:00 pm |
| | |
| Maanantai | 9.30 - 16.00 |
| Tiistai | 9.30 - 16.00 |
| Keskiviikko | 9.30 - 16.00 |
| Torstai | 9.30 - 20.00 |
| Perjantai | 9.30 - 18.00 |